Facebook Chief Zuckerberg Unveils 'Not Fancy' New Headquarters' Building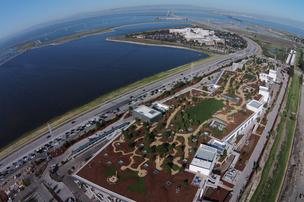 Facebook Chief Zuckerberg unveils 'not fancy' new headquarters' building.
Ever since it was unveiled in 2013, Facebook's scheme for its new Menlo Park headquarters has wrestled to contain twin impulses: enormousness and casualness, environmentalism and car dependency. When Gehry Partners came out with a design showing a cavernous office space on stilts, sandwiched between parking below and a roof garden above, the Observer opined that Facebook had basically hired Frank Gehry to build Mark Zuckerberg a hobbit hole in Palo Alto (read: Menlo Park).

But, Goler says, it feels a lot like the elevated railroad line that now serves as a park on the West Side of Manhattan. "It's a half mile loop," she says. "It gives space to think." Goler, Facebook's head of human resources and recruiting, is among the few who've walked the loop. What's more, much like Facebook CEO Mark Zuckerberg's sartorial efforts, the new digs are consciously dressed down. "From the start, Mark wanted a space that was unassuming, matter-of-fact, and cost effective," Gehry says in statement, according to Wired, referring to Zuckerberg. "He did not want it overly designed. Finally, over the weekend, Facebook began moving into the building—which sits just over the highway from its existing campus—and, judging from the photos Wired got ahold of, all of those things came true.

And the inside is just one open space, "designed to foster the free exchange of ideas." The office also features the work of 15 local artists, presumably of the street art variety. Gehry conceived the 430,000-square-foot complex as one long, continuous workspace—an open plan on steroids. "Mark said he wanted to be in the same room with all his engineers," the architect told Bloomberg in 2012. "I told him we could put the building up on stilts, park cars underneath and create a room as large as he wanted." The LEED-certified structure is certainly more understated than Apple's space donut or Google's robot-assisted glass tent-rooms, but anything suited to hold up to 2,800 employees will have trouble tucking itself into the terrain with anything that looks like subtlety. On Monday, Facebookers began settling into their new offices as the social-networking giant officially opened the structure, dubbed "MPK 20." Facebook's occupancy of the 430,000-square-foot project — among the largest single-room offices in the world — marks a major milestone for the 11-year-old company, and for Silicon Valley's larger corporate real estate scene.

It was an honor to have been invited to be among the first to walk through the new addition to @Facebook Headquarters last night in a private tour along with a solid group of Bay Area instagrammers! The building, designed by famed architect Frank Gehry, is a single story 430,000 square foot building with a 9 acre green roof in a spectacular display of modern architecture.

Its new building both reflects the company's tremendous growth (it has room for about 2,800 workers) while supporting Facebook's priorities and culture, executives said in interviews last week. Zuckerberg, and that is to "create the perfect engineering space for our teams to work together." Similar to design being introduced by Google, this new Facebook building features a single room that can accommodate thousands of employees. Not a bad place to go to work everyday! #MPK20firstlook Yesterday, some other Instagrammers and I had the opportunity to visit @facebook HQ and take a first look at their new building: #MPK20. To that end, the building features artwork created on-site by 15 local artists; new restaurants (including a not-yet-complete grilled cheese and potato bar) — and, of course, that 9-acre rooftop park. Google is using miles of glass to create a "super-transparent" headquarters in Mountain View that can be regularly reshaped by cranes and robots (yes, robots).

This design will allow people to work better, move from one spot to another, or adjust a specific area to house a single project. "The building itself is pretty simple and isn't fancy. Every piece was created onsite and is meant to speak abstractly to what FB does—many of the pieces are a nod to connections, community, networks and systems. Zuckerberg's post, former Google and Instagram employee, and now product manager at Facebook, Chris Marra, has shared a photo of the CEO's first meeting inside the new building. And, yes, it was designed by Frank Gehry, the man who fashioned the sail-like silver walls of the Walt Disney Concert Hall in Los Angeles and floating battleship that is the Guggenheim Museum in Bilbao.

At the same time, the new complex evokes the rather unique spaces Facebook has inhabited in the past, from the tiny second floor office in downtown Palo Alto to the sweeping campus it will continue to use on the other side of the expressway. Facebook paints itself as a company of "builders," engineers who use software to create new things, hackers who turn one piece of code into something else.

What's more, the building is adorned with the kind of sweeping murals and art installations that have helped define Facebook culture—and Silicon Valley culture—for so long. In exchange for some Facebook stock that eventually made him quite wealthy, graffiti artist David Choe spray-painted those Palo Alto walls during the company's earliest years in California.

As the company expanded, across Silicon Valley and into New York and Dublin, it called on Choe and other artists—so many other artists—to recreate the vibe in new surroundings. But it feels so very new, thanks not only to the murals and the installations and the sculptures, but to the rather eclectic collection of posters, flags, furniture, and other gear that employees bring into each space. But at Facebook—a company that values "the hack" above all else—it's the norm. "Our buildings are a kind of like an industrial canvas," Tenanes says. "As teams move in, we encourage them to express themselves—whether that means art or furniture or posters.

Share this article: