Post photos from your Mac with Uploader for Instagram
Instagram Branches Out With New App.
Following in the footsteps of the popular Hyperlapse app, for creating and sharing time-lapse videos, this new free stand-alone offering allows users to combine multiple still images into simple collage-style layouts for sharing online.For the past several years of Instagram's booming popularity, users have turned to third-party apps to create Post-it size photo squares into collages, usually in exchange for hashtag advertising. (#PicStitch and #PhotoGrid are two popular photo collage apps and hashtags.) On Friday, Instagram rolled out Layout, a standalone photo-editing app that lets users create mini-collages then share on any social-media app. This is the second time Instagram has bent to pressure from third-party accessory apps, and is another bid to keep its massive user base within the Instagram ecosystem, and not one of the million other photo-sharing apps that pop up regularly. "From imagining mirrored landscapes to sharing multiple moments from an entire adventure, we've seen these kinds of visual storytelling happening on Instagram and we're inspired by it," Instagram says in a Tumblr blog post announcing the new feature. "With Layout, it's easier than ever to unlock your creativity — and we can't wait to see what you'll make next." When you open Layout, Instagram will show you 10 different layouts to choose from based on up to nine photos you select from your camera roll or gallery. From there, you can customize your layout through drag-and-drop photo arrangement, pinching to zoom in on one part of a photo, and pulling photo edges to change the size of a picture.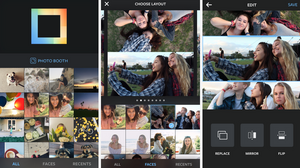 This move comes after the popularity of apps such as Photo Grid, Pic Stitch, and InstaFrame, which offer countless ways to customize photos and create photo collages. Though Layout is also technically a separate app, the hope is that it becomes a tool that Insta-devotees will consider just an extension of the main app. The app also features a built-in "Photo Booth" feature which lets you take a sequence of up to four photos in selfie mode which are then dropped directly into the layout previews.
It provides a brief "Get Ready" message before flashing the screen for each photo, allowing you to change your pose – much like in a real-world photo booth. It seems to be limited to using the front-facing camera though, which is disappointing if you want to make a quick collage of something other than selfies.
The Instagram team draws inspiration from the many similar photo apps already available, several of which provide far greater functionality and complexity. Layout offers only very basic designs in simple, rectilinear formats, whereas competing apps like InstaCollage, Moldiv and Instavid, offer more advanced features such as complex layouts with irregular shapes, custom frames, built-in photo editing, video clips, text and stickers. Its basic options will be plenty for those who just want to quickly throw a few images together without having to learn a complicated app, and it's therefore set to eat into the customer base of competing apps despite its reduced functionality. There's still plenty of room for competing apps to thrive, and being a stand-alone product which must be downloaded from the App Store just like the competition, Layout isn't leveraging any advantage that could be gained by being built into the main Instagram app.
As is often the case with Instagram's own-brand apps, Layout from Instagram is currently only available on the iOS platform, although an Android version is due in the coming months.
Share this article: