Telecom trade group sues FCC on net neutrality
FCC Commissioner Asks Congress To Slash Agency's Budget For Enforcing Net Neutrality.
A Federal Communications Commissioner long-opposed to the net neutrality stance adopted in new regulations by the agency last month asked Congress Tuesday to cut FCC funding necessary to enforce the new rules. "Congress should forbid the commission from using any appropriated funds to implement or enforce the plan the FCC just adopted to regulate the Internet," Commissioner Ajit Pai said in a prepared statement before Congress. "Not only is this plan bad policy; absent outside intervention, the commission will expend substantial resources implementing and enforcing regulations that are wasteful, unnecessary, and affirmatively detrimental to the American public." Pai and FCC Chairman Tom Wheeler appeared before a House budget committee to testify on the agency's new rules, which regulate Internet service providers similar to public utilities under Title II-style authority derived from the 1996 Telecommunications Act. Telecom trade group USTelecom and Texas-based broadband provider Alamo Broadband separately filed petitions against the Federal Communications Commission (FCC) on Tuesday, each claiming the FCC overstepped its authority by establishing "net neutrality." The response is so quick – the FCC ruling came down just two weeks ago – it may not actually hold up in a legal sense. Under the regulations, ISPs are banned from blocking content or setting up faster, higher-cost lanes of web traffic for Internet content creators like Netflix.

What the ISPs and the anti-Net Neutrality crowd seem to forget, though, is that Net Neutrality didn't occur in a vacuum and it didn't have to be this way. Less than a month after the FCC agreed to adopt net neutrality protections during a historic 3-2 vote, attorneys for USTelecom and Alamo Broadband filed separate petitions on Monday this week asking federal judges to review the ruling. USTelecom, the trade group for broadband providers, has filed a rather peculiar pre-emptive lawsuit against the FCC's new Open Internet rules, arguing that while USTelecom supports net neutrality, it doesn't support the rules the FCC laid down to protect it. The company's petition looks familiar, using language that calls the FCC rules "arbitrary, capricious, and an abuse of discretion." When the FCC approved net neutrality rules last month, lawsuits were considered a near-certainty.

Circuit Court of Appeals that the FCC had "unlawfully inserted itself between the state of Tennessee and the state's own subdivisions." Slatery had been among several prominent Tennessee Republicans who had urged the FCC not to override a state law that blocks Chattanooga's electric utility from expanding its super-fast Internet network. The specific argument is against Title II, utility-style regulation, but the FCC was forced into that when a court struck down its earlier, lighter set of rules in 2014. Without protection from the new FCC rules new traffic costs would likely be passed onto customers of businesses reliant on fast downloads including Skype online chat, online video services like Netflix and Internet game networks like Xbox Live. As a result of last month's ruling, the FCC will soon classify broadband internet as a public utility and regulate it as such, much to the praise of net neutrality advocates who hailed the decision as a victory for preserving an open internet in the US. Not to mention, since telecoms laid most of the cable the public uses for Internet today, they have the right to enact tolls to maintain that service. <<>><<>> Though legal action was readily threatened before the ruling by nearly all major telecoms, few expected the lawsuits to be filed so quickly.

On the Alamo Broadband website, founder Joe Portman says he started the ISP in 1994 "on the principle that everyone should have fast, reliable access to the Internet, no matter where you are." Because the FCC's ruling would regulate the service he offers to sections of Texas, however, Alamo's attorneys say the ISP is "aggrieved" by the ruling and has standing to challenge it in court, according to its filing. Specifically, Prince believes the FCC should have laid out these ground rules for ISPs: That sounds idyllic—a truly Utopian vision for how the Internet should be managed. In an email to Bloomberg Politics sent Monday, US Representatives Fred Upton (R-Michigan) and Greg Walden (R-Oregon) wrote that the "inevitable legal wrangling has begun." "These filings are the first in what will undoubtedly be years of challenges spurred by the FCC's unnecessary and inappropriate regulation of the internet," Upton and Walden said. It also sounds familiar, both because it's the way things were managed for years without the need for spelling it out or threatening ISPs, and because it's the exact strategy the FCC already spent years trying to implement only to be challenged by ISPs and shot down in federal court. That Utopian Internet worked just fine until the ISPs woke up one day and decided to dissect what actual rules exist and whether or not the FCC has any actual authority.

The bills would uphold principles of the commission's rules like a ban on blocking the traffic of rivals, but they would place Congress as the arbiter of the regulation rather than the Democratic-controlled FCC. At the point that ISPs like Comcast, AT&T and Verizon chose to nit-pick the letter of the law rather than cooperatively following the spirit of the law they forced the FCCs hand and drove us to this point. It is interesting to me that these same people had no issue with the FCC's authority to declare Internet providers outside of the scope of Title II, yet have no qualms claiming it lacks the authority to undo an arbitrary decision it made in the first place.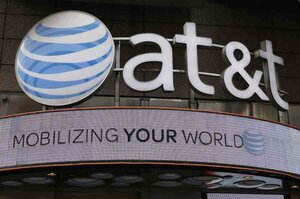 Not only do they refuse to acknowledge that America's broadband market isn't perfect and the best in the world, they refuse to acknowledge that Americans don't have competitive choices for broadband. Several times over the past few years we've found large telecom firms blundering up to regulators, assuming the regulators would just rubber-stamp their world-domination plans, and being absolutely shocked when millions of Americans come out against them.

Maybe we can't do anything about income inequality in this country, but we're doing a decent job complaining about our Internet service. (And at least we aren't in Canada.) I get periodic email blasts from right-wing telecom think tanks, and while I disagree with most of what they say, at least they have some proposed solutions. First, the FCC is an agency created by Congress and chartered to regulate interstate and international communications by radio, television, wire, satellite and cable. A more radical free-market solution would involve opening up a large swathe of unlicensed wireless spectrum for point-to-point wireless ISPs and giving every property owner a right to construct a tower on his or her land, but … we can dream. Unfortunately the ISPs destroyed that solution so now we need Title II to protect US citizens and the Internet from the greedy, petulant children who deliver the Internet service.

A bunch of confusing reports have come out this week saying that people with pirated copies of Windows will be able to upgrade to Windows 10 for free. (People with official copies of Windows 7 and 8 already get Windows 10 for free.) The pirates will just be second-class citizens. According to Microsoft, these owners of "non-genuine PCs" will "not be supported by Microsoft or a trusted partner," which raises as many questions as it answers. Microsoft probably wants to tacitly let home users and people in China pirate Windows, while retaining the ability to deliver slaps on the wrist to Western companies running thousands of pirated copies.

If you look at the universe of consumer computing operating systems, across PCs, phones, and tablets, Microsoft is the only one that charges end-users money for the pure software product any more. Apple has been doing free OS upgrades since 2013, and since you can only run Mac OS on computers that already come with a Mac OS license (without doing crazy Hackintosh gyrations), piracy's never been a major problem for them. And it's obvious what Microsoft is doing—by charging per month, it's making sure that people actually upgrade rather than keep using Office 2008 or whatever because it's "good enough" and they don't want to buy new software. (At my home, we still use Adobe CS3.) With the OS truly free, Microsoft could still get you on the hook for additional features, cloud storage, email accounts, app store apps, all that good stuff. Look at these Gartner numbers: PC sales have been flat for the past two years at about 316 million, while more than 2 billion tablets and mobile phones will fall into people's hands this year.

Share this article: